Dark Horizons Website
In a dark vision of the future, the Mutant Registration Act has been passed, as well as the controversial Safety Act of 2017, which suggests placement of registered mutants with a certain level of risk into controlled institutions. Though it is segregation, the institutions are painted out to be peaceful places where mutants can work and attend school without endangering the common man.
However, mutant prejudice and sentinels are not the only problem - Apocalypse and his Four Horsemen have obliterated the West Coast, taking control of whatever is left. The U.S. Army fights against Apocalypse while suppressing mutant kind, while Apocalypse slaughters thousands, promising survival to only the strongest. As the world is waging this war, our rag tag team of mutants is caught in the middle.
Many of the X-Men are dead, imprisoned, or missing, including Professor Xavier, Cyclops, and Jean Grey. Wolverine is working with the resistance in Canada, leaving precious few to carry on. The remaining X-Men have brought together a new team to try and carry on the legacy in a world where they have to fight for their own survival.
Welcome to Dark Horizons, a play-by-email X-Men RPG for original characters. Join in the fight for survival in a time dangerous to mutants and humans alike.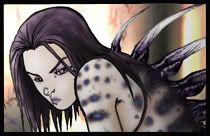 Check out our website:
Dark Horizons